CNN in Tehran, Iran is reporting that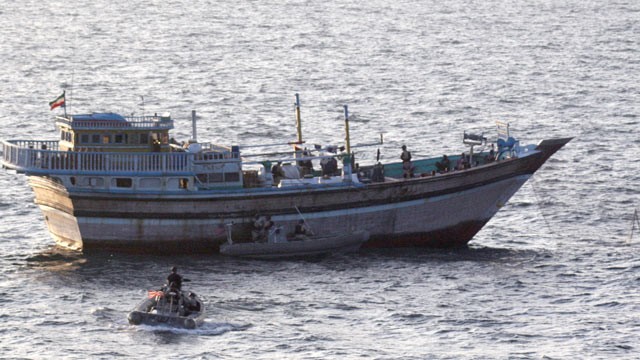 On Saturday, Iran welcomed the rescue of 13 Iranian sailors by a U.S. Navy ship, calling it a "humanitarian act."
The sailors were on a fishing boat that had been hijacked by pirates in the Arabian Sea, near the Strait of Hormuz.
According to the Navy, a helicopter from the destroyer USS Kidd spotted a suspect pirate boat alongside the Iranian vessel on Thursday. The destroyer is part of the USS John Stennis Strike Group, which moved into the Arabian Sea from the Persian Gulf last week.
As the helicopter spotted the suspect pirate ship, the Kidd received a distress call from the fishing boat's captain, saying pirates were holding him and his crew captive.
A team from the Kidd boarded the vessel, took 15 suspected pirates into custody, and freed 13 Iranian hostages, the Navy said.
A spokesman for Iran's Foreign Ministry, Ramin Mehmanparast, had positive words about the rescue when he spoke Saturday to the Arabic news network Al-Alam. More in CNN
It takes real courage to perform such an act of philantropy, considering all that water NOT under the bridge between USA and Iran.