March 13th, 2012
Romney says Santorum at 'desperate end' of campaign
Republican presidential candidate Mitt Romney was blunt in describing rival Rick Santorum's White House prospects Tuesday, saying Santorum's bid for the GOP nomination was coming to a "desperate end."



Speaking on CNN's "The Situation Room with Wolf Blitzer," the former Massachusetts governor and two-time presidential candidate said Santorum was bending the truth to resuscitate a losing effort.
"I'm afraid his conclusions are exactly wrong," Romney said of recent attacks from Santorum and the super PAC supporting Santorum's candidacy. "Senator Santorum is at the desperate end of his campaign, and trying in some way to boost his prospects. Frankly misrepresenting the truth is not a good way of doing that." Read more in CNN



* January 26th, 2012
Romney Pummels Gingrich


Oops, Newt Gingrich should have done his homework. At the last debate before next week's crucial primary vote in Florida, where Gingrich and Mitt Romney are running neck and neck, Gingrich called Romney "anti-immigrant." "That's inexcusable," Romney shot back. "I'm not anti-immigrant. My father was born in Mexico … The idea that I'm anti-immigrant is repulsive. Don't use a term like that." The other candidates also piled on the ridicule when they mocked Gingrich for pandering to Cape Canaveral voters by promising a permanent colony on the moon. It was Romney's most aggressive debate so far, which could put his campaign back on track.
Best unedited comment
Each of the Republican candidates is absolutely correct in that all of the others are lying and, as they point out, their histories emphatically prove it. What we have clearly seen over the last twelve years is that they, without hesitation or conscience, say whatever they think will dupe and sway the public, while they just aggressively pursue their political ambitions and cater exclusively to the influential, powerful and very wealthy few, who provide them strong overt and covert support.and who dictate to them. To place any trust in that is ridiculous, even as they bash Obama in hoping to further their deception.
* January 26th, 2012
Santorum trashes Gingrich moon colony
Tallahassee, Florida (CNN) – A day after Newt Gingrich vowed to build a base on the moon by the end of his second term in office, Rick Santorum suggested that such a promise was merely pandering to Florida voters.
"The idea that anybody's going out and talking about brand new, very expensive schemes to spend more money at a time when we do not have our fiscal house in order in my opinion is playing crass politics and not being realistic with the people of this country as to the nature and gravity of the problem," Santorum said Thursday.
* January 25th, 2011
Murdoch: Romney's Tax Returns May 'Kill' Him
Rupert Murdoch, the conservative media mogul who owns Fox News, tweeted Wednesday that the release of Mitt Romney's tax returns could "kill" his candidacy.
"Romney's tax returns might kill his chances. See Republican establishment panic now!" Murdoch tweeted.
The former Massachusetts governor remains in a thorny political situation. He made more than $20 million income last year and paid only about 14 percent in income taxes. But Romney's own tax plan has called for all Americans to pay a minimum 25 percent tax.
Newt Gingrich's plan, however, calls for a flat 15 percent income tax for all Americans. Gingrich has mocked Romney's plan, saying that Romney wants Americans to pay more in tax than he himself does.
Murdoch's Wall Street Journal reported this week that Romney's posture suggests that his wealth embarrasses him.
The Journal reported that Romney is thinking of scrapping the so-called "carried interest" provision that has allowed Romney and other venture capitalists to invest and reap profits at the low capital gains tax rate of 15 percent.
If "carried interest" were scrapped, rates on venture investments could be taxed at normal income rates.
Gingrich, for his part, says Romney's plan is folly. Gingrich has argued he would cut capital gains taxes across the board to zero to stimulate investment and create new jobs.
Romney appears in a box. Shamed by his low tax rates, he is calling for higher taxes for everyone else. As Politico put it, "Mr. Romney remains in a defensive crouch, as if he's embarrassed by his wealth."
Read more on Newsmax.com: Murdoch: Romney's Tax Returns May 'Kill' Him
* Around January 20th, 2012
Gov. Perry may or may not have been the right Republican candidate for the times. Though this primary process has been flawed with its American Idol-ized debates, if Perry could not recover from the challenge of easy mistakes, he was probably not yet ready for the larger challenges that loom for the next to dare sit where greater men have failed.



* January 23rd, 2012
Newt Mocks 'Desperate' Mitt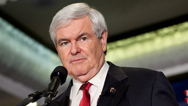 Campaigning outside an evangelical church in Tampa, he said Monday that Mitt Romney had moved from dishing out "pious baloney" to "desperate baloney"—enough, he said, to "open a delicatessen."
* By Tom Cohen, CNN January 24, 2012
Romney faces tax questions after debate attacks on Gingrich
Mitt Romney attacked surging conservative Newt Gingrich in a Florida debate and prepared to face questions Tuesday about his tax returns being released under pressure in a crucial week for the Republican presidential race.
In the spirited Monday night debate at the University of South Florida in Tampa, Romney questioned the former House speaker over his record in Congress and alleged lobbying after getting out of government.
Gingrich, who also came under criticism from rivals Rick Santorum and Ron Paul, tried to remain calm and exude a presidential demeanor as polls show his campaign strengthening after his victory in last week's South Carolina primary.
However, Gingrich angrily denied the lobbying accusation by Romney, accusing him of lying about the issue and seemingly flustered by the persistent attack.

Souce http://edition.cnn.com/2012/01/23/politics/republican-debate/index.html?hpt=hp_t2
* Manchester, New Hampshire. January 6, 2012
Gingrich blasts Romney on abortion, taxing blind
Polls indicate that Gingrich's base of support has plummeted since this week's Iowa caucuses vote, where he came in fourth place.
On the call, Gingrich appealed to the social conservatives of South Carolina by repeatedly accusing Romney of being in favor of gay rights, including taxpayer-funded abortions in the Massachusetts healthcare plan in the form of funding Planned Parenthood, and raising taxes.
"He even raised taxes on people who were blind," Gingrich said, referring to an attempt in Massachusetts to impose a $10 fee for receiving a certificate of blindness.
Read more in Reuters

* Do you like this post? Click YES or click twice to say NOT REALLY, lol.
* Follow Black Queen Lara on Twitter
* Follow Black Queen Lara on Digg
* Be friend with Black Queen Lara on Facebook